AZ Dept of Health Services offering FREE cloth masks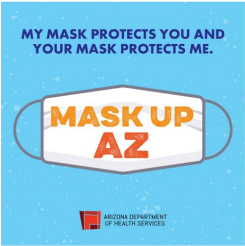 ---
This information was released Aug 6, 2020 from the Arizona Department of Health Services.
ADHS, in partnership with ADOA and other state agencies, has created a program to provide free cloth masks to vulnerable populations across the State of Arizona. This program is being expanded to allow Arizona parents and school staff to order cloth reusable masks.
Order cloth masks on the ADHS online request form or by phone at 602-542-8664.
These cloth masks will be shipped directly to residential addresses in Arizona. Five (5) cloth masks will be shipped per order, free of charge.
Please visit the ADHS FAQs website for more information or call Hanes 1-800-503-6698 Monday through Friday from 6:00 am - 2:00 pm Arizona time for questions regarding the mask itself or shipping.
Mask Usage Information
Masks should be utilized when in public settings and when around people who don't live in your household. The CDC recognizes that there are specific instances when wearing a cloth mask may not be feasible. In these instances, adaptations and alternatives should be considered whenever possible.
Masks should not be placed on children younger than two years old, anyone who has trouble breathing or is unconscious, anyone who is incapacitated or unable to remove the mask without assistance, or students with certain disabilities or health conditions.
Masks should fit snugly on the face. The masks provided as part of this program are not recommended for use by elementary school-aged children, as the mask may not fit small children snugly enough. Parents are responsible for determining the fit and suitability of the mask for their child, based on considerations specific to each child.
The masks provided are not recommended for use in a surgical or clinical setting where significant exposure to liquid, bodily or other hazardous fluids may be expected or infection risk level through inhalation exposure is high.
Do not use in the presence of a high-intensity heat source or flammable gas.
These masks should not be used in a clinical setting where the infection risk level through inhalation exposure is high.
The fabric over the breathable area of the mask is manufactured with 100% cotton.
Mask may contain silver and/or copper. If irritation develops, discontinue use.
The following washing instructions are recommended: Machine wash warm. Do not use fabric softener. Use only non-chlorine bleach if needed. Tumble dry high.
This product has not been FDA cleared or approved.
This product has been authorized by the US Food and Drug Administration (FDA) under an Emergency Use Authorization (EUA) for use by healthcare professionals as a source control to help prevent the spread of infection or illness in healthcare settings and by the general public to help slow the spread of the virus during the COVID-19 pandemic.
This product is authorized only for the duration of the declaration that circumstances exist justifying the authorization of the emergency use of medical devices, including alternative products used as medical devices, during the COVID-19 outbreak, under section 564(b)(1) of the Act, 21 U.S.C. Section 360bbb-3(b)(1) unless the authorization is terminated or revoked sooner.
No Warranties or Assurances
According to the CDC, a cloth face-covering may not protect the wearer, but it may help prevent a wearer who has COVID-19, including wearers who are asymptomatic or pre-symptomatic, from spreading the virus to others. Additionally, the CDC states that wearing a cloth face-covering may help protect people around you.
The CDC guidelines do not claim that wearing cloth face-coverings may protect the wearer from contracting the virus. Additionally, the State of Arizona does not make any express or implied warranties regarding the cloth face-coverings.