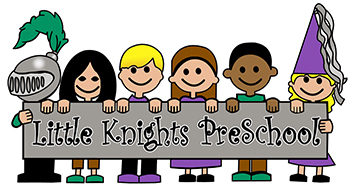 Little Knights is state licensed and a 5-Star Quality First Program. The program operates as a lab base environment where high school students serve as lead teachers in the classroom. Direct supervision is provided by four hired staff.
The Preschool runs as a part-time program - offering either an AM or PM session.
We offer a full curriculum where learning is taught through meaningful play.

Content areas include:
math
music and movement
science
dramatic play
social studies
storytelling
language and literacy
physical activities
art
family-style meal service during snack time
Scholarships are offered based on financial need and tuition slots ($65 per week).
For more information, please contact Marie Hendry or Joann Walker.
Monday, Tuesday, Wednesday, and Friday
AM session: 7:45 am - 10:45 am
PM session: 11:30 am - 2:30 pm
Smoketree Developmental Preschool
Administrative Assistant
Children must be potty trained and 3 years old on or before September 1st.